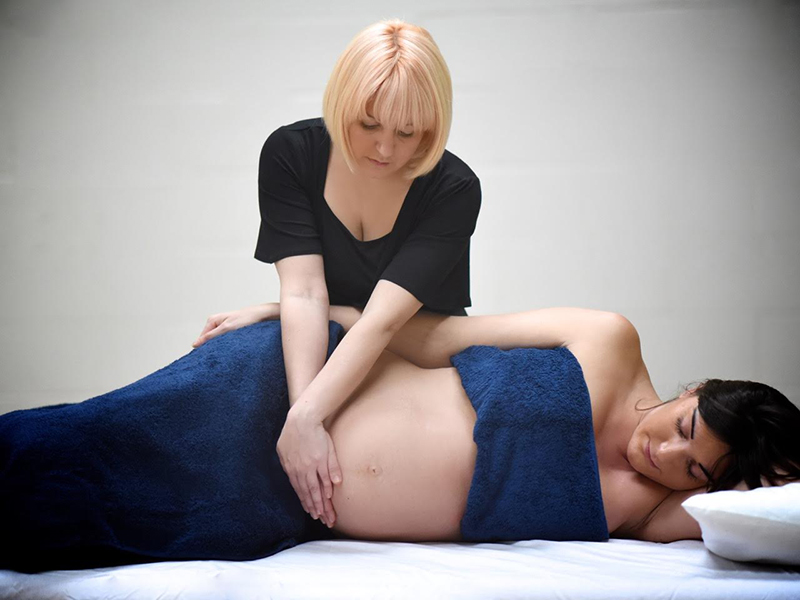 Advanced Pregnancy and Postnatal Massage
To support you during and post pregnancy alleviating pressure and easing aches and pains.
This massage works to nurture and relax you into a calm state in which pain relief can be achieved. Your advanced clinical maternity therapist is highly qualified and practiced pregnancy practitioner and can help you develop the sensory awareness and relaxation that will assist a healthy and peaceful labour.
Your maternity therapist has an in-depth understanding of female anatomy and understands your needs during the prenatal, pregnant, and postnatal stages of childbirth.
Pregnancy is a miraculous time of creation and transformation, with the body naturally going through an abundance of hormonal fluctuations, but it also brings some unfavourable symptoms that should not be ignored
During and post pregnancy, your body is undergoing dynamic changes which may cause emotional stress, aches, and pains.
 This massage can help with:
Lower back pain
Hip and pelvic pain (including SPD/PGPP)
Ribs and shoulder tension
Neck tension
Sciatica
Postural problems
Swollen ankles
Carpal tunnel syndrome
Acid Reflux
Postural adjustments for sleeping or feeding
Diastasis Recti
Shifts in weight and extra pressure are the main culprits for many of these common pregnancy related ailments, especially in the second and third trimesters. Gaining central mass inevitably puts pressure on the weight bearing joints, hips and pelvis creating an increase in the spinal curve (this can be severe). This shift and increasing weight, can activate myofascial pain trigger points.
Fluctuations of hormones, in particular the hormone relaxin, plays an important role in softening the cervix. Furthermore, sometimes other ligaments can also be impacted and lead to issues like carpal tunnel syndrome and pelvic shifts.
Benefits of a Pregnancy Massage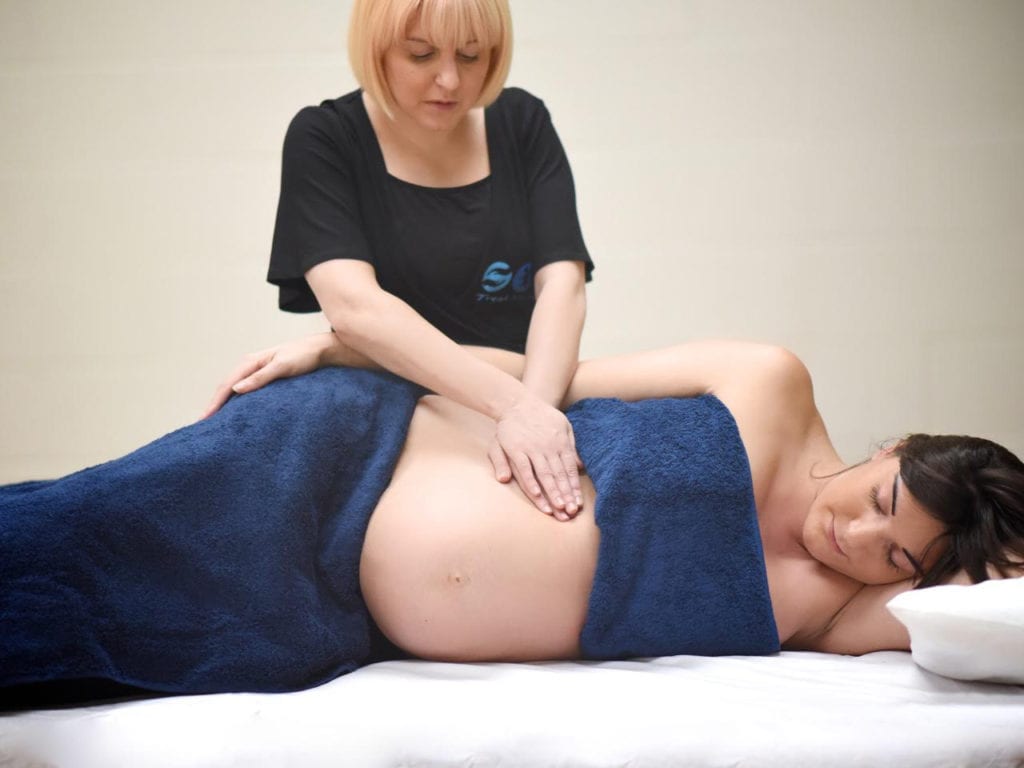 Balancing of hormones and stimulation of endorphins – the body's natural pain killers
Regular massage prepares you for birth and is also reported to reduce the chance of complications and premature births (study link)
Reduce swelling (oedema) in hands and feet (study link)
Alleviate cramps
Massage enhances blood and lymph circulation bringing oxygen and nutrients, greater unborn nourishment to mum and baby (study link)
Improves mood and reduce symptoms of anxiety and depression in pregnant women (study link)
Aid you to sleep better
Can relieve lumbar back, sciatica, and pelvic girdle pain (study link)
Especially beneficial in the 3rd trimester and can reduce pain in labour, even more so during the last 4 weeks of pregnancy. (Wish I'd know this in my 1st pregnancy). (study link)
Your baby feels what you do. Massage for mum equals a free baby massage!
What to expect in a Pregnancy Massage
At Warrington Pain Clinic, we offer treatment durations of 45, 60 and 90 minutes, depending on your personal requirements.
Your therapist will do an orthopaedic assessment prior to treatment, enabling your treatment to be tailored to your specific needs.
Our first priority is to ensure you feel relaxed during therapy; from this place, your therapist will facilitate techniques to relieve your pain. In a warm but well-ventilated treatment suite, you will be asked to position yourself into a resting position on your side with support from soft, V-shaped pregnancy support pillows.
You will always be well covered and your modesty-will be maintained throughout the treatment session. We recommend you wear loose fitting clothes and if wearing a bra make sure it is easily removable, should you wish to remove it during the treatment.
Our Pain Clinic is located on the edge of a woodland park, and so the treatment suite has wonderful nature sounds that include both birds and natural running water. You can also choose to have music played digitally during treatment. Many of our clients enjoy our relaxation sleep playlist.
We advise you to avoid eating a heavy meal and use the toilet before you arrive, however there are toilet facilities available on site. If you have any special requirements, please get in touch and we will facilitate your needs as best as possible.
Your customer care does not end when you leave the treatment room. You will receive advice, including self-massage tips, day to day advice, how to sleep without triggering pain patterns, postural adjustments and rehab exercises.
Pregnancy massage is beneficial, both pre and postnatally and throughout the pregnancy trimesters themselves.
If you have a high-risk pregnancy case, please consult with your doctor and midwife to obtain a release form before booking your appointment with us. Many doctors and midwives advocate for pregnancy massage, and our therapists are highly skilled and trained so it is very possible that we will be able to treat you.